For this chapter of "Album of the day" I bring the album that, in my personal opinion, made the well-known band U2 world famous.
The album "The Joshua Tree"!
---
To say that this is the album where the song "With or without you" is included, the most famous song of this group, it would be more than enough to understand the phrase that I wrote in the title about that this was the album that made U2 world famous. Who does not know that song in the world?
---
But that would be saying very little about an album with songs that speak not only of love, breakups and searches. Also on this album U2 makes a kind of political statement including songs like "Bullet The Blue Sky" about events that occurred in the civil war in El Salvador or "Mothers Of The Disappeared", a song about the mothers of the Plaza de Mayo in Argentina.
---
And also, this 5th album of the group that was released in 1987, made the band win in 1988 the Grammy award for "Album of the Year" and "Best Rock Performance By A Group Or Duo".
---
A good friend of mine in Cuba, Fernando, had the album on vinyl and I remember we listened to it a lot for a while. Also, at school we formed a musical band where we played covers of famous songs and "With or without you" was one of them. For all this, it is not surprising that this album is part of my current collection of vinyl records.
---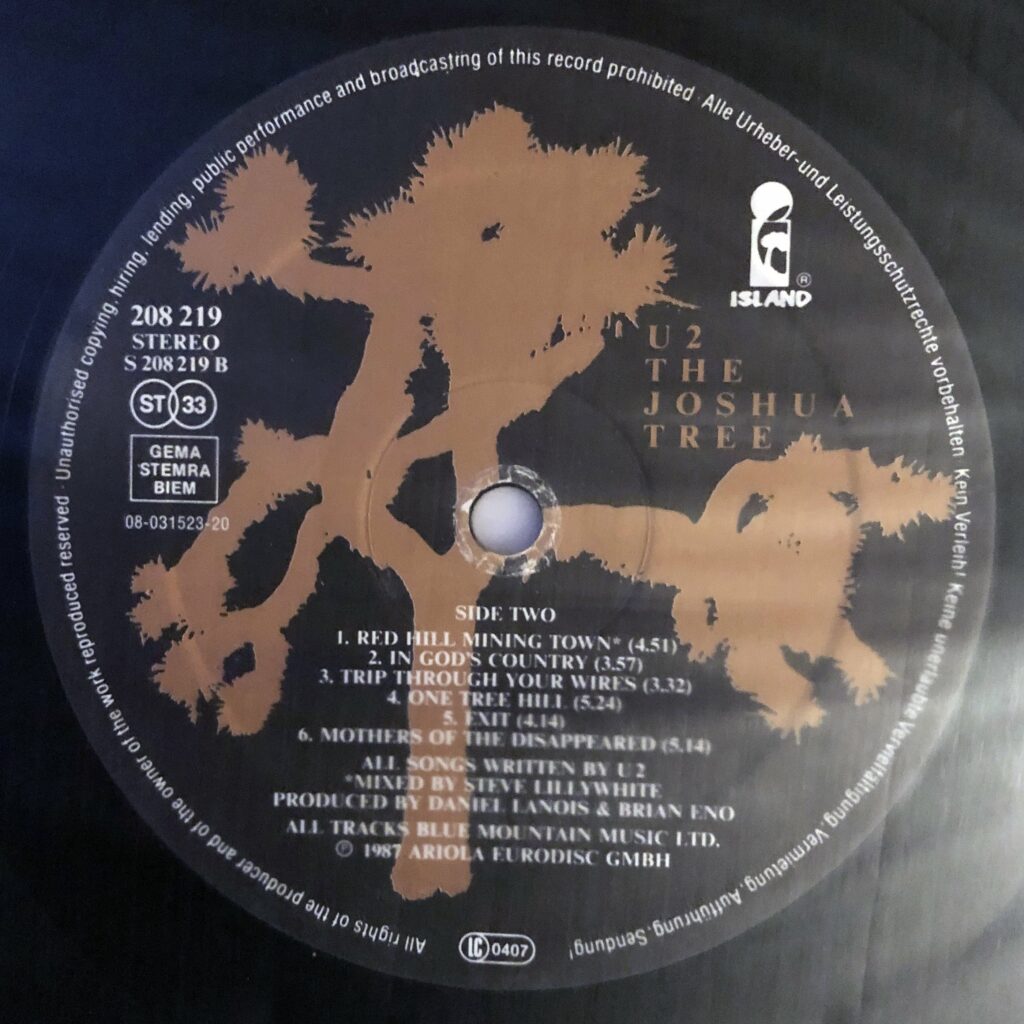 The copy in my collection is a European version from 1987 in very good condition. I bought it from Discogs at a fairly low price. Being so famous it is a fairly easy record to get online. It can also be purchased from Amazon in Germany and Amazon in the USA.
This and other vinyl albums can be found in our affiliate store. The list in this store is a personal and varied selection that can be purchased on Amazon. For now we only have the listing for the Amazon website in the USA and the Amazon website in Germany.
And to conclude, I leave a YouTube list with several of the songs from "The Joshua Tree" by U2 to enjoy.
---
Disclosure: Some links on this page are affiliate links. This means that, at zero cost to you, I will earn an affiliate commission if you click through the link and finalize a purchase.